It is one of the many factors bands define as "making it" – getting a Record Deal. And, in the age of digital distribution and slower returns on royalties, it may feel impossible to do. But, I assure you that it is not; especially, if you align your business correctly and have your assets ready to be showcased to any interested party. Below are a few tips for making sure you have everything you need. 
A Press Kit. 
Simple – have a press kit. Make it available online and in a clean, concise, and not-too-flashy or confusing of a package (please, no fucking glitter on your packaging!). And, for the love of professionalism, go check any potential record label's website for submission guidelines – they each have their own preferences for how they like to receive music and doing it in a means that is inconvenient is a sure-fire way to get your beautiful Press Kit thrown in the trash. Remember the cost of materials and shipping when making your press kits, as well. 
They Each Have Their Own Preferences For How They Like To Receive Music 
Confused about what to put in your press kit? 
I will write more in detail about this, but consider putting together your "best of the best". Here is a list of some items to get a basic package going: 
A sample track or two 
A solid live or official music video 
A logo photo and/or an image of the band 
Any press you may have gotten (or incorporate only the most impressive you have received) 
A concise band biography about why you are unique and interesting 
Links and contact information 
Any impressive stats that may interest someone looking to invest in you, such as a major venues played, headliners supported, number of shows, number of albums, or any other interesting fact that shows that you are professional. 
And, if you are confused how to put it together in a clean package, look up some One-Sheets from various independent artists. Here is an example provided by Garrett Gomez in SoundCloud's Repost Blog in a great article on One Sheets: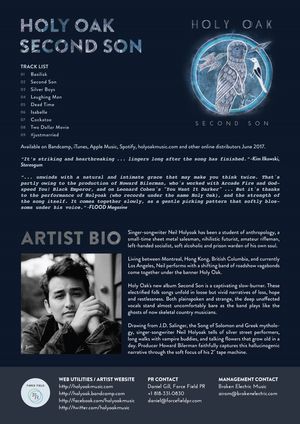 Click to Download One Sheet - sourced from the link below
https://www.repostnetwork.com/blog/2018/06/28/repost-network-essential-artist-one-sheet/ 
A Website. 
There are so many options for affordable websites with easy-to-use website builders, that there is little excuse for not having a self-named domain available. Get a Dot Com with a name relevant and memorable to your band and include everything anyone could possibly find on your music on your website. This is where you should always direct your fan base and prospecting investors back to, so remember which audience you are intending to reach with each page – but, more on website requirements later. 
Ensure that you have Social Media Links, all your music and videos, a concise and full biography, any merch you have available, a mailing list, contact information, photos, and, of course, your Electronic Press Kit (EPK for those who are in a hurry). Keep it simple and coordinated and remember that this presentation is going to solidify your brand and level of professionalism with your audience, so keep it updated and well designed. 
Keep It Updated And Well Designed. 
If you are looking for a solid web design and domain hosting site, try Bandzoogle – it is like WordPress for musicians. It holds everything you'll need as a band or musician and is really easy to use. Plus: it is super cheap with no sales fees - 
Copyright Registration. 
This one is often overlooked by the "new to labels" bands – but, having copyrights secured on your recorded music is a way to display, not only your professionalism, but exactly who is invested and owns rights to your music prior to a label signing you on as an artist. Why is this important? Because a label may want to negotiate rights to your previously recorded music and will want to aid in the sales of those albums. If it is a guessing game as to who currently owns the copyright (and what portion thereof) for the written AND recorded music, then the label may just want to move on and find an artist that requires less liability and backtracking. With band members coming and going means there is room for lawsuits regarding a mis-assignment of royalties for past music – especially when a band is in an early phase and may not have discussed "cuts" of the profit. 
A Label May Want To Negotiate Rights To Your Previously Recorded Music 
It is cheap and easy to do by yourself (though I make it clear to mention one should consult with a Copyright Attorney, should they have any questions or concerns) through the USPTO.gov website for $55 – a $11-$13.75 expense for a 5 or 4 member band (respectively) per album. You guys can afford that. 
A Manager. 
Your Manager is the only person on your team whose singular job and fiduciary responsibility is to look out for your best interests and protect you from any outside party who may want to take advantage of your brand and your business. Because of this, a Record Label cannot legally interfere with your relationship with your Manager. With that in mind, a savvy label will look at whether or not you have a manager and whether or not they feel they will be able to work with that individual through the duration of whichever contract is up first. 
A Record Label Cannot Legally Interfere With Your Relationship With Your Manager. 
If your manager has a history of being combative, hard to work with, inflexible with negotiations, or underqualified for their position, a label will reconsider working with your band. When picking a Manager, it is important to consider, not just what they can do for you, but how they will get it done. 
A Performance Rights Organization (PRO). 
As a professional musician, there is very little reason not to sign with a PRO. They collect and distribute your royalties for public performance of any song you wrote (including when you perform it yourself) and advocate for you through legislative change in the federal government. 
There Is Very Little Reason Not To Sign With A PRO 
In the United States, there are two common options (though the Global Music Rights group and SESAC both have a strong presence) in BMI and ASCAP. Each of these have their merits as an organization – all non-profit – and provide resources, education, seminars, and royalty collection and monitoring services. You will absolutely need to have one in order to sign a record contract (at least, any one you want to sign) and this will dictate whether or not the label works with a publishing company that can help with your music – Publishing Companies can only work with one PRO. 
Content and Data. 
Content seems like a no-brainer, but you'd be surprised how often I have to explain this to bands. You need to have some previously recorded music available. You need to have photos and videos. You need to have content that people have seen, shared, commented on, signed up for, viewed, loved, hated, anything – but, you need to have it. 
And, with this content, you need to keep track of data on views, followers, minutes viewed, website visits, mailing list sign-ups, clicks, purchases, downloads, and any other information that shows a record label that you are worth their time. They will be investing in you and will want to know there is a market for your music – it is not enough to simply say the music is good in order to catch their attention. You need to show your music is worthy through numbers. 
You Need To Show Your Music Is Worthy Through Numbers 
Your Social Mediums all come equipped with Data Tracking that can be downloaded and shared. Websites can be easily linked to Google Analytics to cover all the traffic and search and click information possible to be reviewed. You can check your digital distribution platforms for information regarding streams and where they happened and how often. All these numbers can prove to a label that you will be able to sell your music and that they will see a return on the financial investment they made into your band. Remembering that labels often only make their money on your recorded music speaks to the fact that one should keep track of their music streaming and download history very closely and forefront this information to gain their appeal. And, a clean way to represent this data is key to keeping their attention 
- 
Now, there is a lot more one should consider when reaching out to a label, including vast amounts of research on what you need and what they will provide to you. But, these are some basics that will help you get that record deal. Feel free to reach out, should you have any questions -